Aluminium Alloy Exporter & Supplier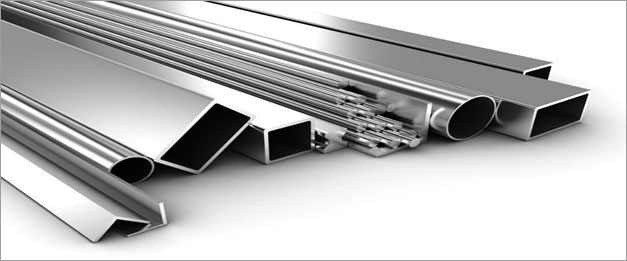 Aluminium is the world's most abundant metal and is the third most common element, comprising 8% of the earth's crust. The versatility of aluminium makes it the most widely used metal after steel. Although aluminium compounds have been used for thousands of years, aluminium metal was first produced around 170 years ago.
Pure aluminium is soft, ductile, corrosion resistant and has a high electrical conductivity. It is widely used for foil and conductor cables, but alloying with other elements is necessary to provide the higher strengths needed for other applications. Aluminium is one of the lightest engineering metals, having a strength to weight ratio superior to steel.
By utilizing various combinations of its advantageous properties such as strength, lightness, corrosion resistance, recyclability and formability, aluminium is being employed in an ever-increasing number of applications. This array of products ranges from structural materials through to thin packaging foils.
Further strengthening is possible by means which classify the alloys roughly into two categories, non-heat-treatable and heat treatable.
NON-HEAT-TREATABLE ALLOYS :
The strength of alloys in this group depends upon the hardening effect of elements such as manganese, silicon, iron and magnesium. Since these alloys are work-hardenable, strength levels are controlled by various degrees of cold working, denoted by the 'H' series of tempers. Alloys containing appreciable amounts of magnesium when supplied in strain-hardened tempers are usually given a final elevated-temperature treatment called stabilizing to ensure stability of properties
HEAT-TREATABLE ALLOYS :
The strength of alloy in this group is enhanced by the addition of alloying elements such as copper, magnesium, zinc and silicon. Since this elements show increasing solid solubility in aluminium with increasing temperature, thermal treatments imparts pronounced strengthening. The first step, called solution heat treatment, is an elevated - temperature process designed to put the soluble element or elements in solid solution. This is followed by rapid quenching, usually in water, which momentarily 'freezes' the structure and for a short time renders the alloy very workable. It is at this stage that some fabricators retain this more workable structure by storing the alloys at below freezing temperatures until they are ready to form them. At room or elevated temperature the alloys are not stable after quenching, and precipitation of the constituents from the super – saturated solution begins. After a period of several days at room temperature, termed ageing or room temperature precipitation, the alloy is considerably stronger. Many alloys approach a stable condition at room temperature, but some alloys, particularly those containing magnesium and silicon or magnesium and zinc, continue to age – harden for long periods of time at room temperature. By heating for a controlled time at slightly elevated temperatures, further strengthening is possible and properties are stabilized. This process is called artificial ageing or precipitation hardening. By the proper combination of solution heat treatment, quenching, cold working and artificial ageing, the highest strengths are obtained.
Aluminium Products Are Available As Below :
ROLLED PRODUCTS :SHEET, COIL, PLATE, BUILDING (ROOFING) SHEET, TREAD / CHEQURED / FLOORING SHEET & PLATE, STUCO SHEET & COIL, FOIL
EXTRUDED PRODUCTS :ROD, FLAT BAR, SQAURE BAR, HEX BAR, ROUND TUBE, SQAURE TUBE, RECTANGULAR TUBE, ANGLE, CHANNEL, I BEAM, T SECTION, OVAL TUBE, TRANPORT PROFILE, ARCHITECTURAL / BUILDING PFOFILE, BUS BAR & TUBULAR, HEAT SINK, INDUSTRIAL PROFILE, CUSTOMISED / SPECIAL PROFILE
FORGED PRODUCT
SEAMLESS TUBE
DRAWN PRODUCT
HOW OTHER ALLOYING ELEMENTS AFFECT ALUMINIUM
Specifications of Aluminium Alloy:
| | | |
| --- | --- | --- |
| Series | Main Alloy | Effect on Alloying Elements |
| 1000 | Non (99% Alum.) | Unalloyed aluminium is highly corrosion resistant, low strength, workable, conductive, Non-heat-treatable. |
| 2000 | Copper Based | Gives strength, hardness, machinability, Heat-treatable |
| 3000 | Manganese Based | Adds moderate strength, good workability. Non-heat-treatable |
| 5000 | Magnesium Based | Moderate to high strength. Corrosion resistant. Non-heat-treatable |
| 6000 | Magnesium & Silicon Based | Increase strength, formability, corrosion resistant. Heat-treatable. |
| 7000 | Zinc Based | For greatest strength. Heat-treatable. |
Note: 1000, 3000, 5000 and 6000 alloys have good welding characteristics and corrosion resistant. 2000 and 7000 alloys have higher strength and better machinability, but lower weldability and corrosion resistant.
Importance of Aluminium:
Lightweight with high strength/weight ratio
Corrosion resistant
Electrically / thermally conductive
Non-magnetic and non-combustible
Non-toxic and impervious
Aesthetically pleasing with a wide range of surface finishes
Good for decorative, functional or structural purposes
Very malleable and easily machined
Recyclable Aluminium is available in a wide
Range of alloys to suit different applications.